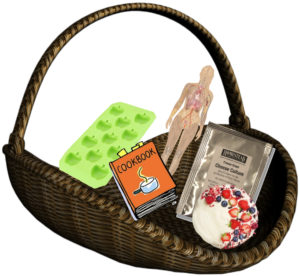 Our overall theme was fermented: Inspired by the Food Hackers, Ethical Cannibals and Nutri Amorists cards, we present to you an alternative to a traditional cheese-focused picnic, we imagine as a 'speed date'.
Our picnic cheese board includes elements that are sustainable and climate-conscious as well as varied and suitable for diverse diets and tastes. These cheesy elements are brought together to attract a mate: they are present both as a topic of conversation and a challenge for a prospective date to eat.
For our main picnic course, we prepared for example a Vegan Cheese created especially for ethically minded cheese-lovers, a Breastmilk Cheese made for sharing with prospective family members and a special Dating Cheese made from human bacteria.
The latter delicacy is imbued with the odour of human pheromones – an odour created from human sweat glands – thus creating truly personalised cheese flavours. Collected from your sweaty local gym, this personalised smell can then be used to attract (or repel!) romantic partners at the imagined picnic.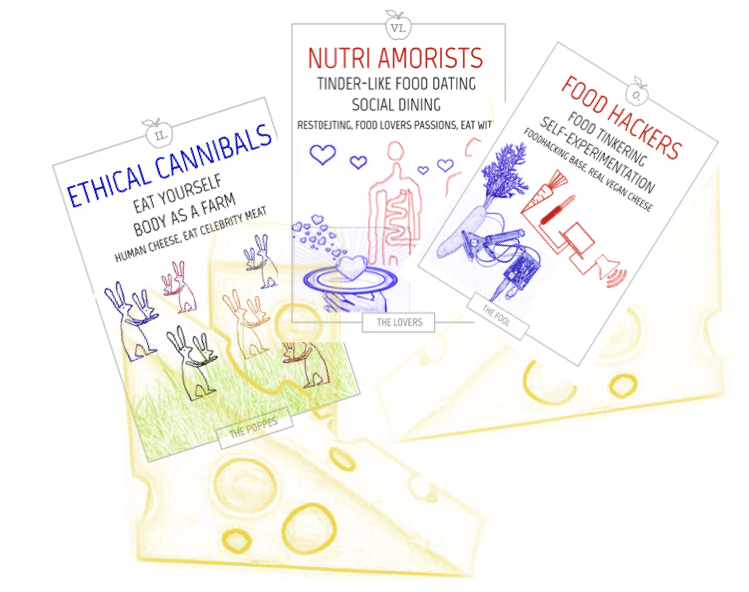 Bored with hard cheese? We provide sweet alternatives – such as Caramelised Cheese, Pavlova Cheese and Chocolate Cheese. Accompaniments at our picnic included crisp apples, Russian cheese salad and sourdough bread. Fermented drinks such as kombucha, apple and berry cider, buttermilk and fruit tea help to wash down any cheesy after-taste.
Our cheese is presented unwrapped, or with sustainable edible wrapping. We consider that plastic has its advantages, such as keeping bacteria out, however, we are concerned about our impact on the Earth. Our cheese is to be made and consumed on the same day. Therefore, it is wrapped in cheesecloth in the morning and eaten in the afternoon.
This is assuming your romantic partner does not take the term 'speed-date' literally and run away – leaving you holding the cheese. If this happens, we have heard that the local ducks might enjoy the cheese, or you could bring your cheese home and try a cheesy speed-dating picnic another day.